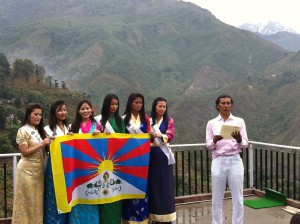 Within a culture long revered for spirituality and high value placed on inner beauty, a maverick Tibetan promoter engages in a seemingly most un-Tibetan undertaking: a western-style beauty pageant. For the past decade, young Tibetan women from around the world have gathered in Dharamsala, India, the Himalayan home of the Tibetan Government in Exile, to take part.
Pageant Producer Lobsang Wangyal's larger than life persona, contradictory beliefs, and controversial behavior are central to the story of the Pageant's evolution. His unorthodox efforts to bring modernity and glamour to the Tibetan exile existence meets challenges at every turn.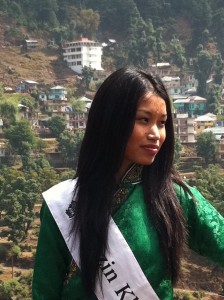 Miss Tibet contestant Tenzin Khecheo lives the life of a typical American teen. As she prepares for a return to India, where she was born in exile, she faces feelings of disconnection from a homeland she has never seen, and self-doubt about whether she is Tibetan enough to be "Miss Tibet." In Dharamsala, Khecheo meets Lobsang and the five other Miss TIbet contestants from around the world, and over the next week is immersed in a crash-course on Tibetaness: from lessons in traditional dance, meeting ex-political prisoners, to attending teachings with the Dalai Lama himself. Khecheo experiences a profound cultural and political awakening, just as the pageant is about to commence with the highly controversial bikini round.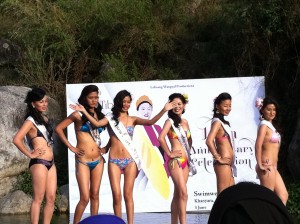 Over the next three nights, Khecheo and the other contestants compete in various pageant categories, including talent, evening gown, speech, and traditional dress. In a rousing finale, filled with fireworks and fanfare, the climactic moment is reached as the new Miss Tibet is crowned—a choice that shocks many.
Primarily told through verité scenes, interviews with prominent Tibetans are woven throughout, including the former Tibetan Prime Minister, a hard line traditionalist, and the current Prime Minister, a Harvard-educated modernist, who address whether the Miss Tibet pageant apes the worst of western society, or is an inspired addition in the struggle for Tibetan autonomy.
While there have been many fine films about Tibetan struggles and spirituality, Miss Tibet: Beauty in Exile offers a fresh perspective on Tibetans living in exile, in particular young Tibetan women. The story of this pageant's existence and the participants' desires to embrace modernity while still maintaining cultural traditions closely mirrors the larger Tibetan exile community at a time of great transition, with the momentous shift resulting from the Dalai Lama's recent political retirement just as tensions between China and Tibet flare.